How businesses can make the most out of the Edinburgh Festival Fringe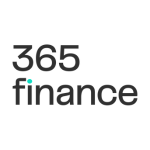 Written by Team 365 finance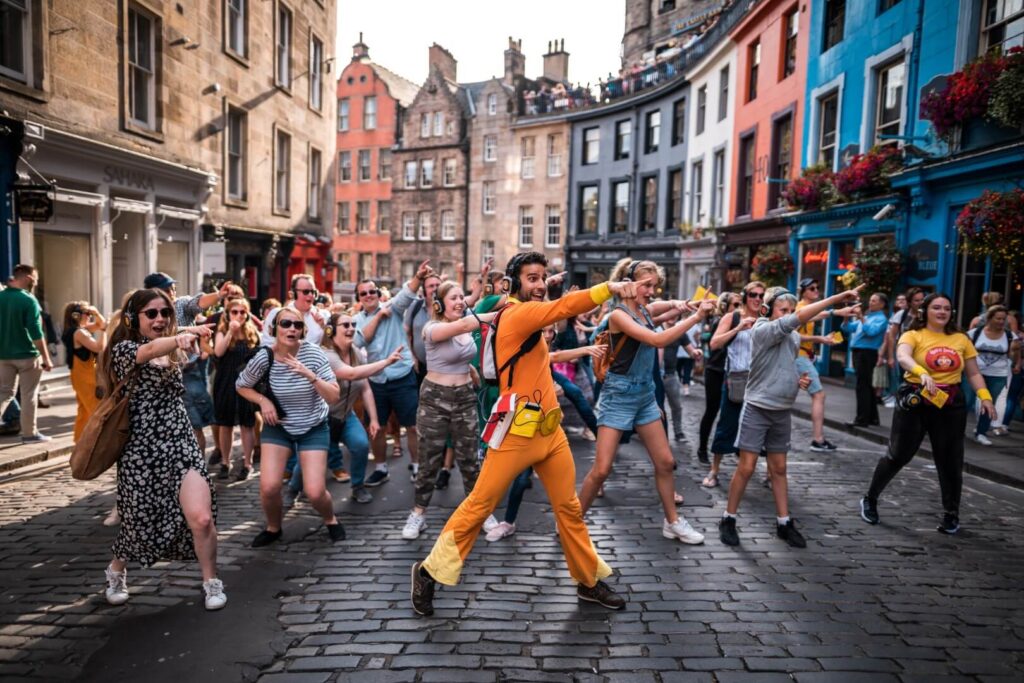 The Edinburgh Fringe will be back with a bang this year. The international arts festival, a mainstay of the Edinburgh calendar, is set to take place from 5th – 29th August 2022. This year's festival will mark its 75th anniversary and, after a brief interruption, attendees are eager to celebrate.
Performers and tourists alike come from around the world to see the city and tour the rest of Scotland. So, even if your business is based outside of Edinburgh, you can find ways to benefit from the festival.
We've outlined how your business can make the most out of the Edinburgh Festival Fringe this year by advertising strategically and partnering with performers to attract customers. Read on to learn more about the Fringe and how it could benefit your business.
What is the Edinburgh Festival Fringe?
The beginning of the Edinburgh Festival Fringe dates back to 1947. The Fringe was founded as a free-spirited alternative to the Edinburgh International Festival, which was a celebration of European cultural life in the wake of the Second World War.
At the time, some local theatre groups were turned away from the International Festival, so the group decided to establish a competing programme of events. Since then, the Fringe festival has evolved into what we know it as today: a three-week celebration of artistic experimentation, imagination, and inclusivity in Scotland's capital city.
First and foremost, the Fringe is an open access (or "unjuried") performing arts event, meaning there is no selection committee. Anyone can participate with any type of performance.
Comedy is the largest events category, making up over one-third of the programme. Comedy acts regularly garner the highest public profile, due in part to the Edinburgh Comedy Awards and news articles recognising the festival's top jokes.
However, during the festival, Edinburgh also becomes home to events ranging from one-person performances to food and wine nights. So whether you've got some killer one liners to share or a mouth-watering menu, there are plenty of chances to attract new customers.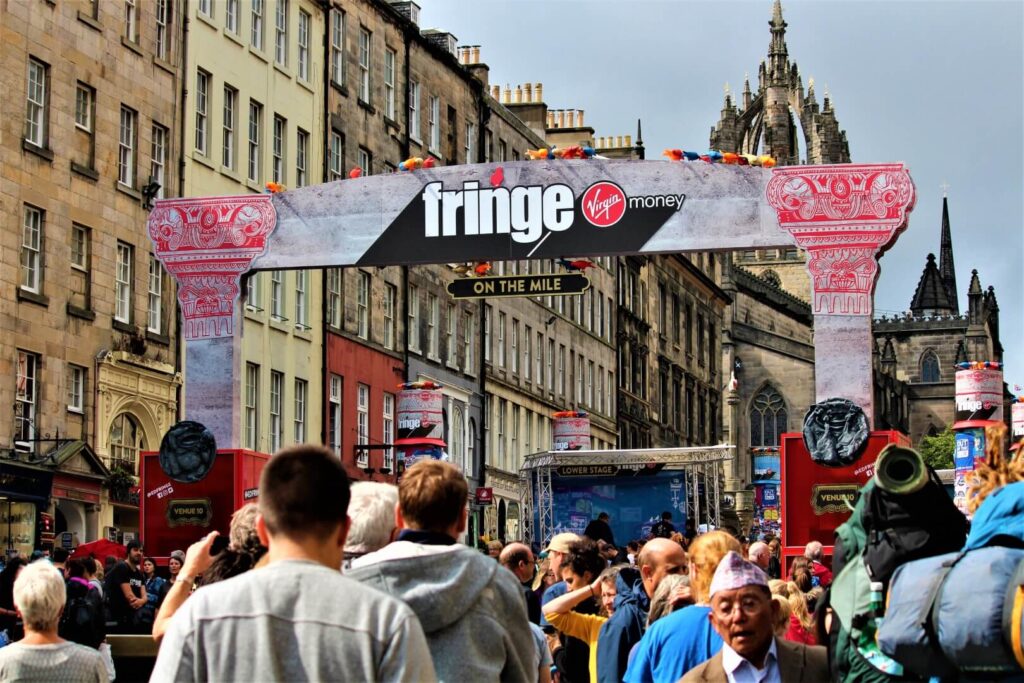 The Edinburgh Fringe set to return in it's full glory
Last year, a significant portion of Fringe events took place online due to the pandemic. This year, however, will see a return to in-person shows that have characterised the event's history.
To give you an idea of the festival's impact, conservative estimates suggest the Fringe generates well over £200m for Scotland and the wider UK. Some figures suggest this figure could be as high as £1 billion as tourists flock to see other parts of the country.
In 2019, 25% of shows in the Fringe Programme were made by Scottish companies and artists, with the remaining performers coming from over 60 countries. Collectively, the Fringe hosts more than 750 official shows in just three weeks.
Attendees are keen to see budding artists and cultural celebrations, which is why so many local businesses are eager to get involved. For performers alone, the typical spend for putting on a show at the Fringe ranges from £1,000 to £25,000.
Our own data has shown a 125% increase in funding advances from 2021 to 2022, as businesses in Edinburgh gear up for the summer. In particular, we've seen a 30% increase in the amount funded per advance – suggesting that everyone, from pubs and restaurants to retailers and hotels, are making big plans.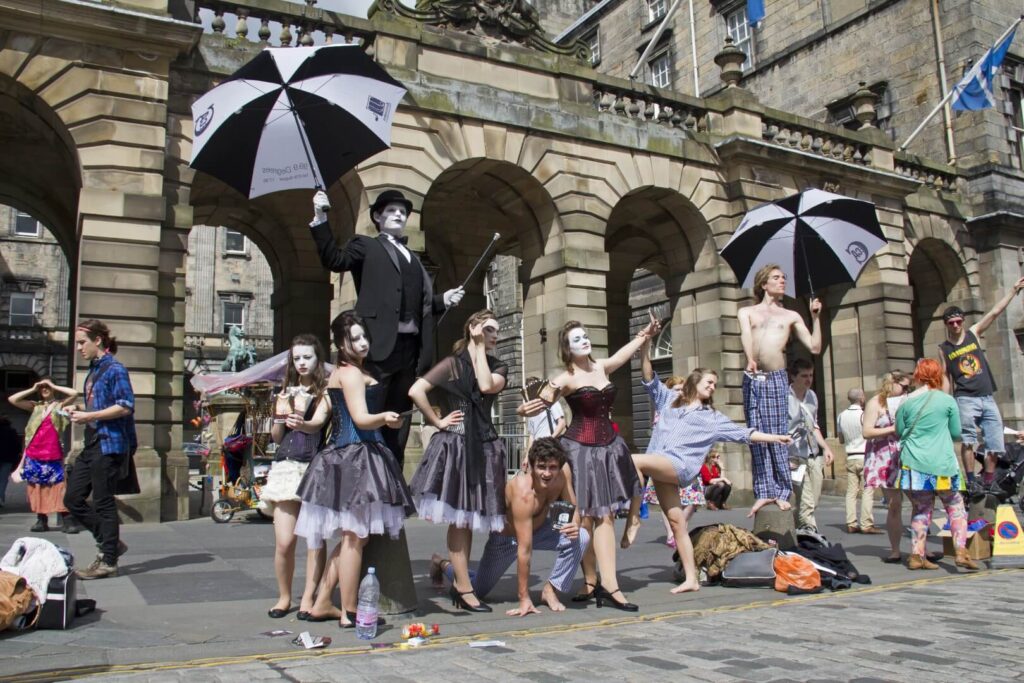 Making the most out of the Edinburgh Festival Fringe
The Fringe festival can generate lots of demand whether you're situated in the heart of Edinburgh or another hotspot, making it a huge opportunity for your business.
If you're interested in taking advantage of the increased customer footfall, follow the steps below and start building a plan to attract new customers this August.
Set your goals
As always, you should begin by setting some time aside for you (or your company) to decide exactly what you would like to achieve from the Fringe.
For example, if you're a hospitality business, bringing a few extra staff onboard to cope with demand can ensure customers get the type of service that keeps them coming back. However, you could also commission some renovations to your premises or purchase a pop-up stall to expand your presence in a more popular part of the city.
Each of the above plans need a tailored approach to ensure you allocate your budget effectively and understand where you'll need more capital. Therefore, you'll need to identify potential shortfalls in your budget before you begin.
Get on social media channels
Social media is a powerful tool to help businesses reach out to and attract customers, so cultivating a strong presence online is crucial.
Try to take a more proactive approach around what you do online. Start by planning content in advance and make time to engage your followers with replies and updates.
Most importantly, post about any special deals or events you'll have on during the Fringe.
Use online advertising
Channels like edfringe.com allow you to target your ideal customers by placing advertisements at box offices and directly in front of Fringe festival goers.
What's more, you can also create social and Google ads to reach an even wider audience.
Attract attention with posters
With so many people visiting the city, you shouldn't forget about posters.
It might sound a bit old-school, but during the Fringe, paper posters remain an excellent way to attract attention and remind audiences about your business — particularly if you're hosting an event.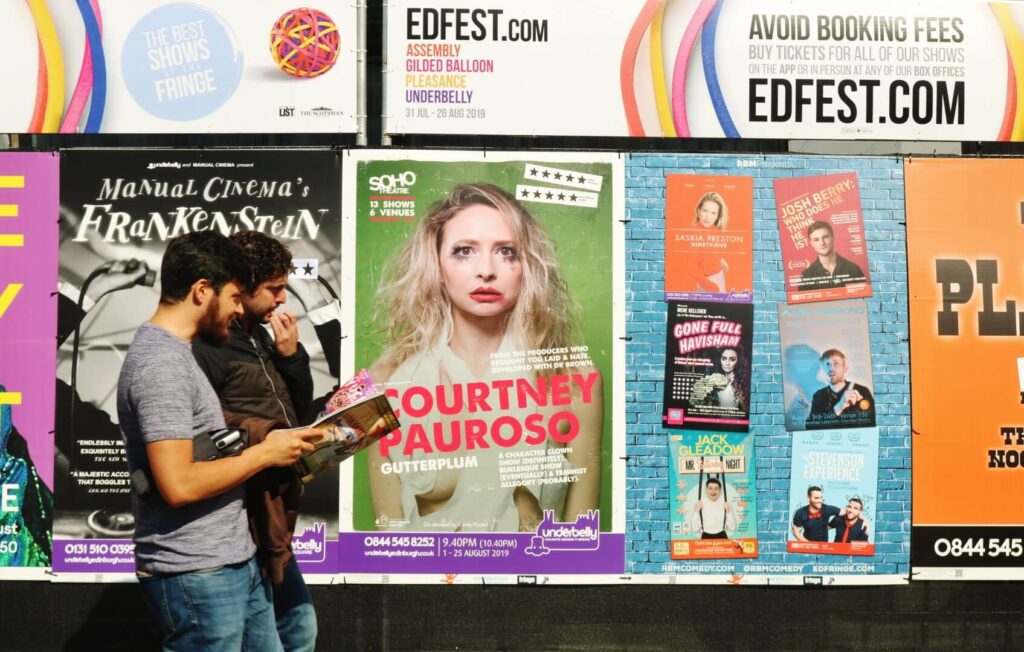 Make sure your design is eye-catching but also easy to read: it'll have lots of competition for attention. You should also carefully observe City of Edinburgh Council guidelines, so your posters don't get taken down.
Run special deals during the fringe
Fringe attendees want to take in as much as Scotland's businesses and artists have to offer, so make sure you give them the value they're looking for.
Here are just some of the deals you can run during the Fringe to attract more customers:
Two-for-one deals
Pre-show discounts
Post-show after parties
Free product samples
Themed products
Fringe-only loyalty schemes
Partner with an artist
If you rent or own commercial premises in Edinburgh, you could offer space to artists and performers for their shows.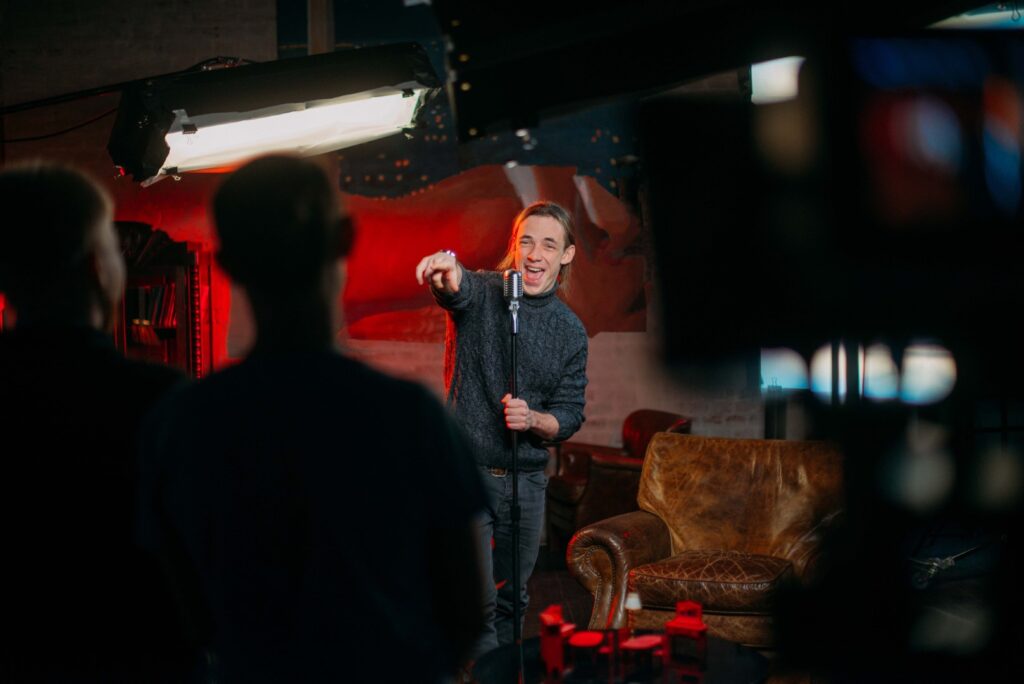 Small acts like musicians and comedians don't need much space, and hosting events can be a great way to let festival attendees interact with your business. If you'd like to learn about hosting performers and running a venue, check out the Fringe Society's website for more information.
Make sure you have enough funds
If your revenue is seasonal or you're planning something big for this year's Fringe Festival, your existing budget may struggle to stretch as much as you'd like it to. Before you receive additional investment revenue, you'll need to make applications in time for them to be approved and transferred into your account.
365 finance can provide you with timely access to financing for your business. We offer revenue-based finance solutions that ensure your repayments are always flexible and manageable.
Rather than APR rates or fixed monthly payments, you can borrow anywhere from £10,000 and £400,000. We add a fixed fee and take repayments from a small percentage of your future credit and debit card payments, so you pay when you make sales.
Best of all, the financing is unsecured, so you can borrow without having to offer collateral or set business plans. Instead, we make an assessment based on your existing cash flow.
Prepare for the Edinburgh Festival Fringe with advanced funding
There are only a few more weeks to prepare for 2022's Edinburgh Festival Fringe and the millions of pounds in revenue it generates for the Scottish economy.
If you're eager to participate this year and grow your business, follow the steps above. Expanding your advertising presence (both online and offline) ensures festival attendees are aware of your business and what's on offer. Meanwhile, hosting exciting artists and cultural events can help invite foot traffic into your premises and create sales opportunities.
What's more, funding providers like 365 finance can help you make the most of this year's Fringe with flexible borrowing options. Instead of worrying about your budget, you can implement a new strategic vision during the August festival and grow your business with a new customer base.
Boost your visibility during the Fringe with Rev&U from 365 finance
At 365 finance, we can offer revenue-based funding of £10,000 to £400,000 in capital, so your business can thrive all year round.
Apply for funding today without affecting your credit score. Or speak to our team to find out how we can help your business. To find out more, head to our website.