How Small Businesses Can Make The Most Out of Notting Hill Carnival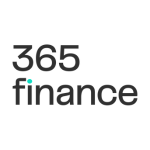 Written by Team 365 finance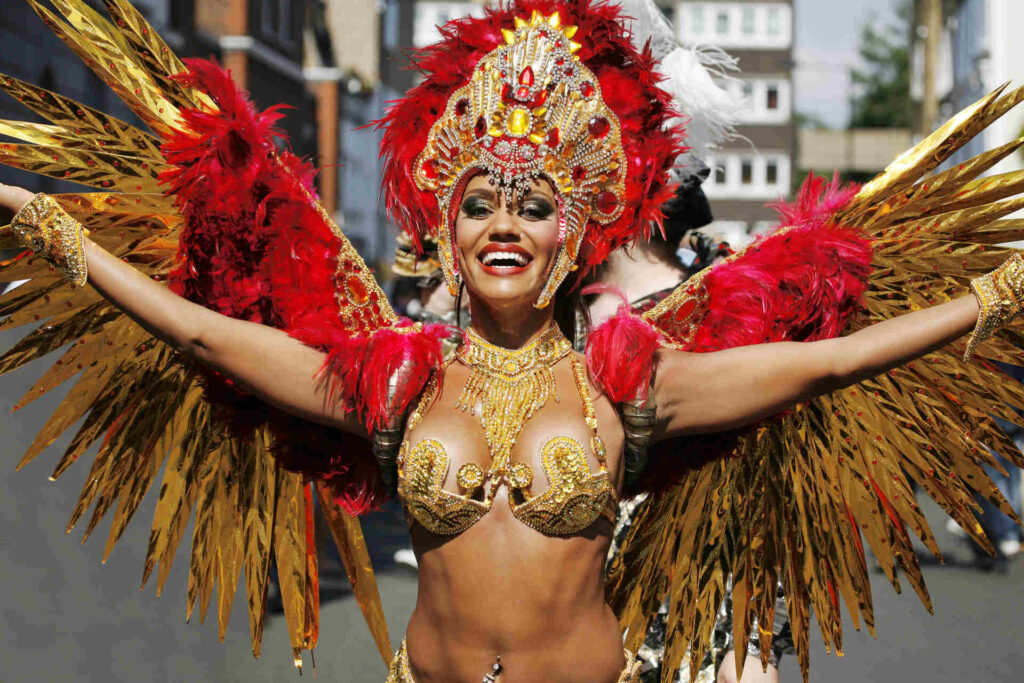 Notting Hill Carnival is back with a bang this year! The festivities will once again be in full swing this August bank holiday, after a two-year break due to COVID-19 restrictions.
The carnival is widely regarded as Europe's largest street festival. It has become an integral, annual cultural event on every Londoner's calendar. Performers, vendors, and tourists come from around the country and across the globe to see the city explode in celebration. Small businesses across the W10 and W11 postcodes stand to see huge benefits from the carnival – if they are prepared to get in on the action.
We've outlined how your business can make the most out of the Notting Hill Carnival this year, and next, through advertising, getting your own stall, and more. Read on to learn more about the carnival and how it could benefit your business.
Why is Notting Hill Carnival 2022 important?
The first Notting Hill Carnival took place in 1965, and since its inception, it has been led by the Caribbean population of London.
What started as a small gathering at St Pancras Town Hall has now exploded into one of Europe's largest street festivals spreading over Westbourne Grove, Westbourne Park, Kensal Road, and Ladbroke Grove.
An estimated 1 million people attended the last carnival in 2019, and after a two-year hiatus, crowds this year are expected to come back bigger than ever. Tourists and locals alike are excited to enjoy social events after extended lockdowns. Plus, data from NHS Test and Trace shows that mass participation events can be conducted safely.
Notting Hill Carnival contributes almost £100 million annually to the London economy.  This year, it could be even more. With the first day of the carnival just around the corner, local businesses are gearing up to make the most of the three-day influx of festival-goers over the August Bank Holiday.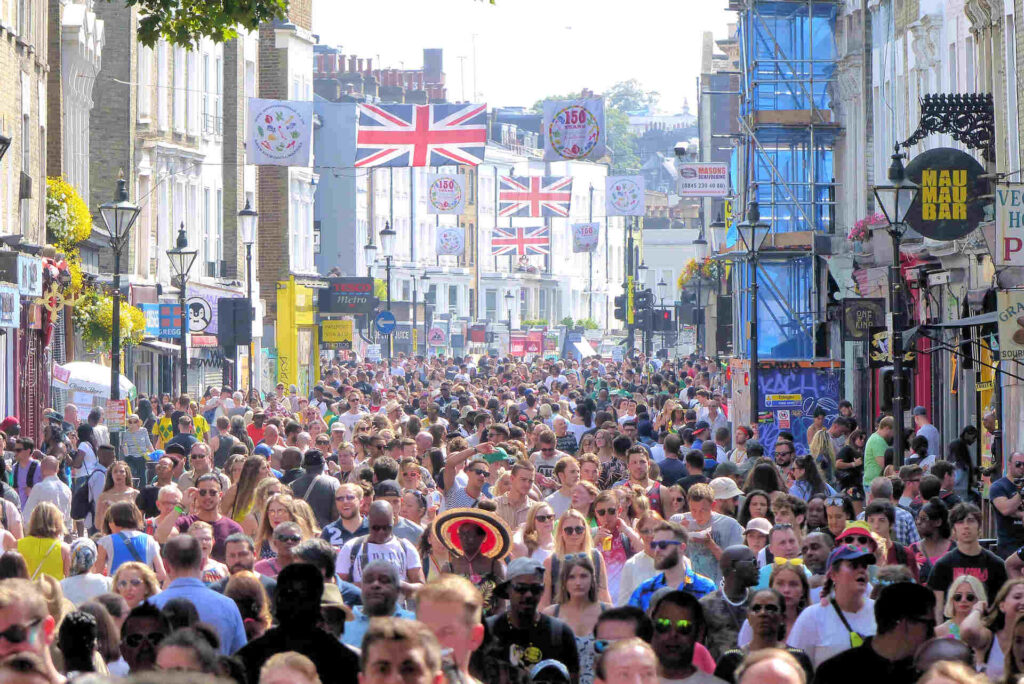 How to get a stall at Notting Hill Carnival
If you're interested in taking full advantage of the increased traffic through Westbourne Grove and the surrounding areas, getting your business a carnival stall is one of the best options available.
A stall at Notting Hill presents a great opportunity for local London businesses. With over a million attendees showing up over the carnival weekend is a surefire way to increase your presence in the local community.
You will get your brand in front of numerous new faces and have a successful weekend trading with increased foot traffic, versus a typical weekend in your brick-and-mortar location.
The stalls for 2022's carnival are now all taken. But 2023 carnival organisers are taking applications from businesses who wish to set up at next year's event.
You can fill out your application here.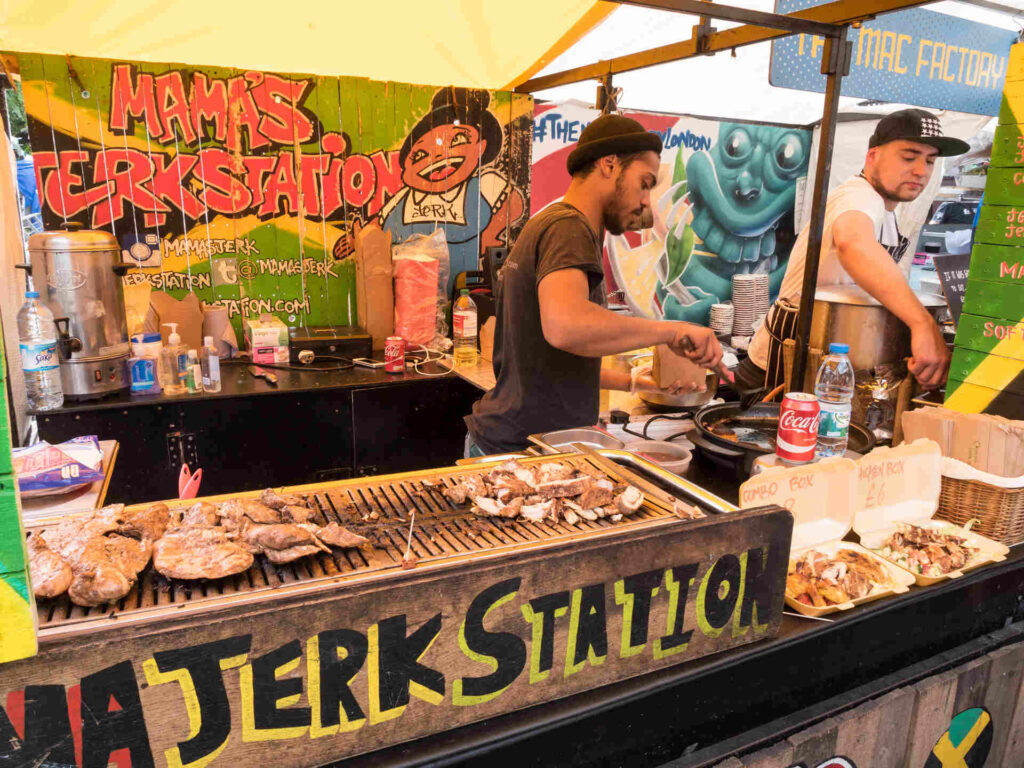 Some important things to note about trading at the Notting Hill Carnival are:
You pay a £10 fee for Reserve List Registration (which does not guarantee you a stall)
Once offered a stall, you must gain a street trading licence
To gain your licence, you must book onto a mandatory Carnival Training Course
You must provide your own stall
Electricity is not provided
Street traders are not permitted to sell alcoholic drinks of any type
Fortune-telling, tattooing, body piercing, head massage, hairdressing and tarot reading are also forbidden
Your business can sell almost anything at the carnival (excluding items listed above). Typically, stalls selling clothing, jewellery, and artisanal goods see success. But the real gem of the carnival is the food.
Food at Notting Hill Carnival
Restaurants and other food-related businesses can see an explosion in popularity simply by getting their delicious dishes in front of new customers at the carnival.
Top tips for carnival success include:
Think about preparation: You want to be able to cook your food fast to avoid lengthy queues forming.
Bring generators and propane: Ensure you have enough energy to run your kitchen all day for three days.
Health and safety: Make sure your stall is safe and clean as Health and Safety is a key concern for event organisers.
One of the first things people learn about Notting Hill Carnival is that it's run by the Caribbean community. Most of the food stalls sell Caribbean and West Indian food and options like jerk chicken and roti are the go-to favourites. Some vendors also get creative and infuse Caribbean flavours with their own dishes.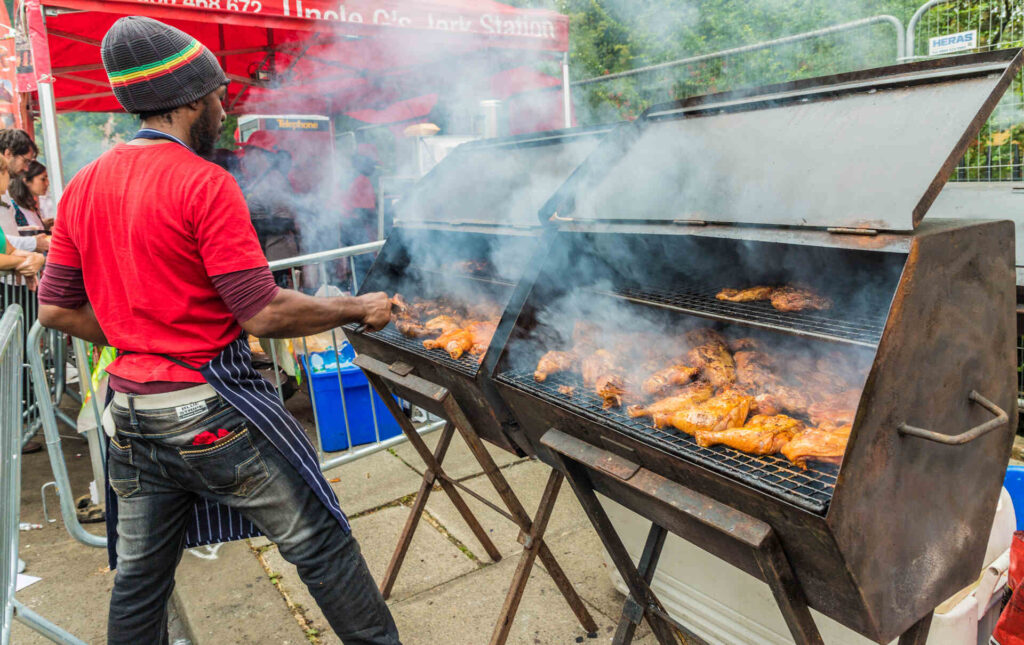 While you can sell whatever food you wish at your stall, it is important to remember the cultural significance of the carnival. Participating by shining a light on the great food and culture of the Caribbean will often be better received than trying to move the focus to another style of food.
Home-cooked or authentic foods are the way to go. It fits with the tradition and community of the carnival, and the smell of chicken grilling over the barbeque is sure to attract hungry attendees.
Opportunities for businesses outside of W10 and W11
Businesses across London and even outside the city can still use the carnival as an opportunity for promotion – you don't have to be in the W10 or W11.
London businesses can think about giving out coupons or running carnival weekend promotions to attract customers to their stores. This can be a great way to divert some of the spotlight away from the carnival and incentivise customers to step through your doors while visiting the city for the weekend.
There are also excellent opportunities for advertisement over the weekend. Promotional billboards, handing out flyers, and even partnering with DJs and other artists can be tools you use to boost your brand and get your name out there.
Discover your business potential during Notting Hill Carnival with help from 365 finance
There is still plenty of time to prepare for 2023's Notting Hill Carnival and ensure your business takes advantage of the millions of pounds in revenue it generates for the London economy.
At 365 finance, we can offer revenue-based funding of £10,000 to £400,000 in capital, so your business can thrive all year round. Apply for funding today without affecting your credit score. Or speak to our team to find out how we can help your business. To find out more, head to our website.