New Opportunities in Pet Businesses Open Due to Rising Pet Ownership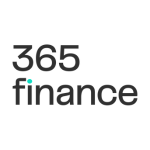 Written by Team 365 finance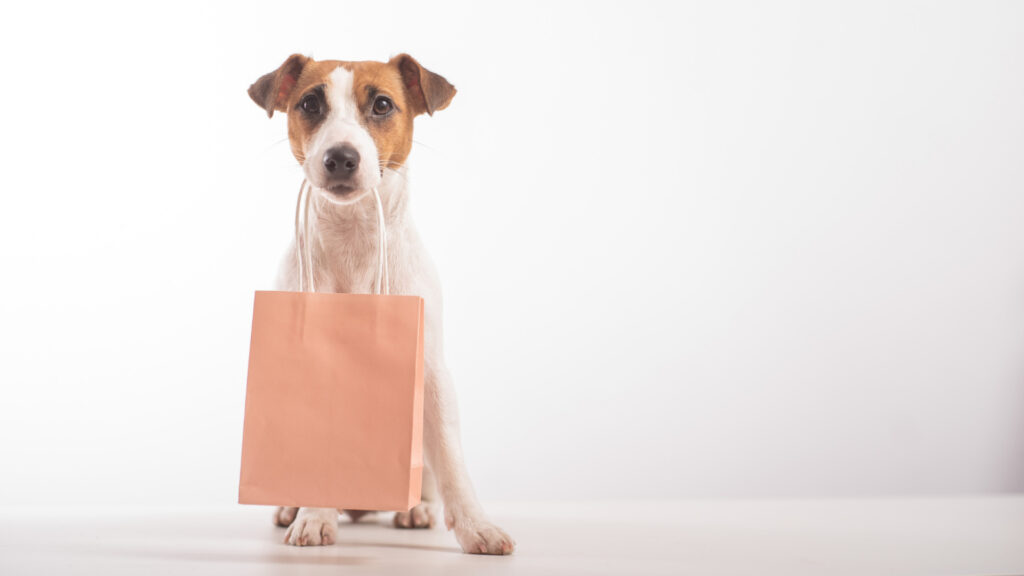 Did you know that over two million people in the UK bought a new pet during lockdown?
The pandemic caused the UK pet sector to explode, with a total of 3.2 million households acquiring a pet since it began. As people were forced to stay inside and work from home, many decided it was the ideal time to add a new member to the family, creating a surge in demand for pet retailers and dog groomers among others.
This trend presents an exciting business opportunity to fill the unmet demand in the industry and attract customers seeking to buy treats for their fur babies. In this article, we'll explore the reasons pet ownership has increased and how smart financing routes can help your business leverage the opportunity. Read on to find out:
– Why the increase in pet ownership?
– What our data shows about pet businesses
– What's been the impact on pet businesses?
– Revenue-based financing could benefit your pet businesses in 2022
Why the increase in pet ownership?
Many aspects have contributed to the surge in pet demand, but the pandemic is a big contributor. Lockdown restrictions prompted consumers to find ways to improve their home lives. For some, it was home renovation; for others, it was furry friends.
Moreover, the last couple of years have taken their toll on people's mental health. In the UK alone, around one in five adults have experienced some form of depression during the pandemic. Pets offer companionship to help see their owners through tough times, so it's no wonder people gravitate towards buying or adopting them.
Pets are well documented to help with psychological distress and loneliness. According to a survey of UK pet owners in May 2021, 90% of dog owners, 85% of cat owners, and 81% of rabbit owners stated that owning a pet made them mentally healthier.
Plus, working from home meant new owners could be around for their pets and give them a better quality of life. Since people will likely continue to work from home for years to come, the new pet trend is likely to continue.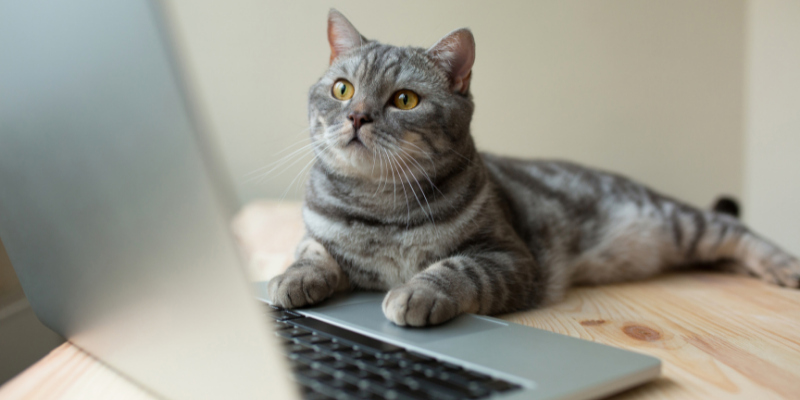 (Almost) No-one can resist a cute pet
The increase in pet ownership also leads to more animal content on social media from people posting photos and videos of their new family members. This is a trend pet businesses can leverage to increase customer engagement.
Showcasing a pet or animal can increase the engagement rate and attract more customers to the brand. Organic posts featuring both cats and dogs can see an increase of 337.4% in likes and 226.9% in comments.
There are also plenty of pet awareness days businesses can get behind to engage with their customers. Even here at 365 Finance, we showcased our beloved team pets in January for Walk Your Dog Month: Meet Aida, Meet Frank, Meet Mowzer.
While the sudden rise in pet ownership opened many doors for pet businesses, it did have some negative impacts, which we'll investigate below.
What's been the impact on pet businesses?
Here at 365 Finance, we saw a 94% increase in funding for pet retail throughout 2020 and 2021 compared to 2018 and 2019. This spike implies a sharp rise in demand for pets, pet supplies, and grooming services throughout the pandemic and lockdowns. The grooming industry in particular has benefitted from the effects of lockdown, as more pets means more furry friends for groomers to look after.
However, while the increase in demand is often excellent news for business owners, one of the negative consequences was a pet supply and retail shortage throughout the UK in 2021. As a result, several brands, including Pets at Home, limited select multi-pack purchases to two packs per person in a bid to help feed as many animals as possible.
Where will the market go from here?
According to a recent study, the global pet care market has grown from about £188.2 billion in 2021 to around £200.1 billion in 2022. The same study shows that by 2027, that figure is set to reach a staggering £269 billion.
Business owners have a unique opportunity to create new revenue streams (or enhance existing ones) by leveraging the increasing demand for pet services and products. Doing so successfully requires a business plan for pet products or services that reflects the current market. Business owners may need to adjust their plan and think about investment capital and securing funding to pay for the advancement of their operations.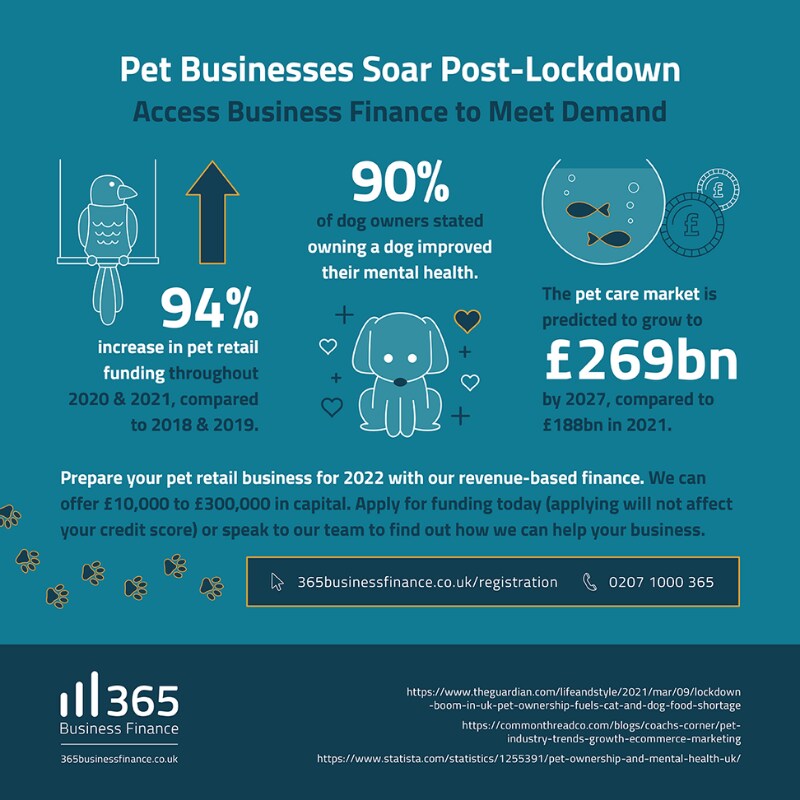 How Revenue-based Financing could benefit your pet businesses in 2022
Oftentimes, taking a business to the next step requires capital –– capital you may not have available now. When you need some financial help, Revenue-based financing (or MCA) from 365 Finance might be the ideal solution.
Tailored for SME business owners, our MCA is a form of revenue-based finance that offers quick capital. Unlike a traditional bank loan, MCA comes with no APRs, interest rates, or monthly payments. Instead, repayments are made through a small percentage of your future credit and debit card sales.
This means your repayments will mirror the ups and downs of your business –– when you have a quiet period, you simply repay less, and when business picks up, you repay more. As such, MCA eases financial stress and helps you maintain a healthy cash flow.
When you apply, we assess your business's credit and debit card sales to determine how much funding we will offer you. To be eligible, you must process payments through a debit or credit card and/or online processor. Your business must also have been trading for at least six months and process at least £10,000 per month.
Access flexible financing for your pet business with 365 Finance
The pet industry is off to a strong start in 2022 as the effects of the pandemic linger. As work from home practices continue, pet ownership doesn't seem to be slowing down significantly anytime soon, and the business opportunity is growing.
Prepare your pet retail business for the year ahead with our revenue-based financing tools. We offer £10,000 to £400,000 in capital.
Apply for funding today without affecting your credit score or speak to our team to find out how we can help your business.