Preparing Your Small Business for Valentine's Day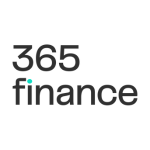 Written by Team 365 finance
For most UK businesses, Valentine's Day is the first big seasonal sales opportunity of the year. In particular, companies within the hospitality industry and retailers with suitably giftable products can hugely boost their revenue in the days and weeks leading up to Valentine's Day.
But how can an SME really take advantage of February 14th and increase their Valentine's Day sales? In this article, we'll provide a comprehensive list of effective Valentine's Day preparations for small businesses, including how to market your company and how to prepare for an increase in virtual gift-giving.
Plan and Predict
It's always a good idea to plan ahead before a large seasonal event. For instance, a company should have its marketing and sales plan for Christmas ready at least a month before the beginning of the festive season.
Although Valentine's Day might not be as significant as Christmas when it comes to increasing sales, it should still be on your business calendar: over £926 million was spent on Valentine's Day products in 2021. So it's vital that you plan your approach before the day arrives so that you can capitalise on the opportunity.
For instance, take your marketing plans. Which social media platforms will you focus on? What will your posting schedule look like? How much time will you need to edit or design your posts? These are all vital questions that should be answered ahead of time so that when the 14th arrives, you can focus solely on maximising your Valentine's Day sales.
As well as planning the how of Valentine's Day, you should also take time to predict the 'how much' — building a sales forecast for seasonal events is hugely useful for business planning. If you're able to create a rough model for your expected sales totals, and then compare it to the actual sales you make on the day, you can learn a lot about customer activity during special occasions.
While sales forecasts are always handy to have, they're particularly useful for seasonal events because those events will occur every year. If you start creating a seasonal sales forecast for the big events of 2023, by the end of the year you'll have a much clearer picture of what 2024 might look like for your business.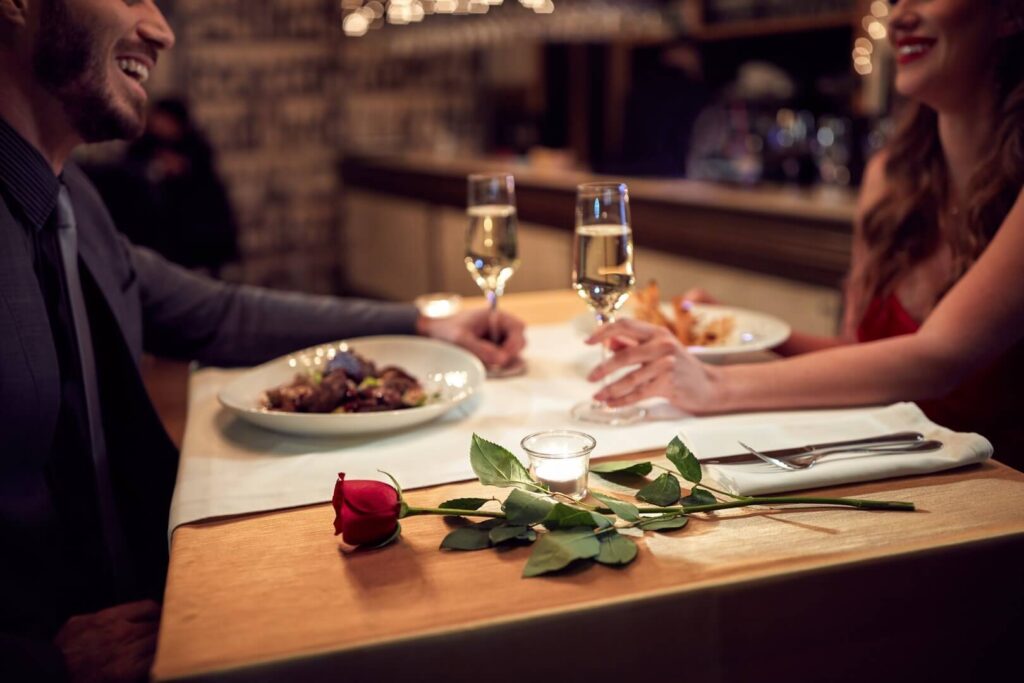 Offer the Perfect Date Night
Hospitality businesses are particularly well-suited to making the most of the 14th since dinner dates and drinks are popular Valentine's Day plans. However, that doesn't mean a restaurant or bar doesn't need to put effort into their Valentine's Day preparations.
A simple and effective idea that can be put into place fairly quickly is to offer discounted meals, drinks or even a special Valentine's menu. Little touches like these are great for attracting new customers, specifically because they set you apart from your competitors.
However, it's critical that you market any Valentine's Day offering, so customers are well aware of what you're offering and can book a table. Make sure that you utilise social media, email marketing, or even physical advertisements to publicise your Valentine's plans well ahead of time.
Another reason hospitality businesses can profit from Valentine's Day more than some other industries is because they can 'extend' the event beyond the 14th. For example: not every couple will be able to have dinner on Valentine's Day. But, if your restaurant offers its special menu and discounted rates for the days leading up to the 14th and the days after, you can ensure your increased revenue isn't just for a single day.
Interested in more business tips for pubs and restaurants? Check out our article on How to Expand Your Hospitality Business.
Virtual Gift-Giving: Prepare for a Digital Sales Boom
In 2022, e-commerce traffic during Valentine's Day increased 33% compared to the numbers for 2021. If the trend continues, online retailers can expect a similarly significant boost to their Valentine's Day sales this year. In particular, retailers that sell giftable products — perfume, jewellery, accessories, flowers and (of course) greeting cards — should prepare for a spike in virtual gift-giving.
While an increase in traffic means your online store will be in front of a much bigger audience, it doesn't guarantee that you'll actually get more sales or more visitors to your site. Luckily, Valentine's Day provides some easy ways to direct customers towards your site.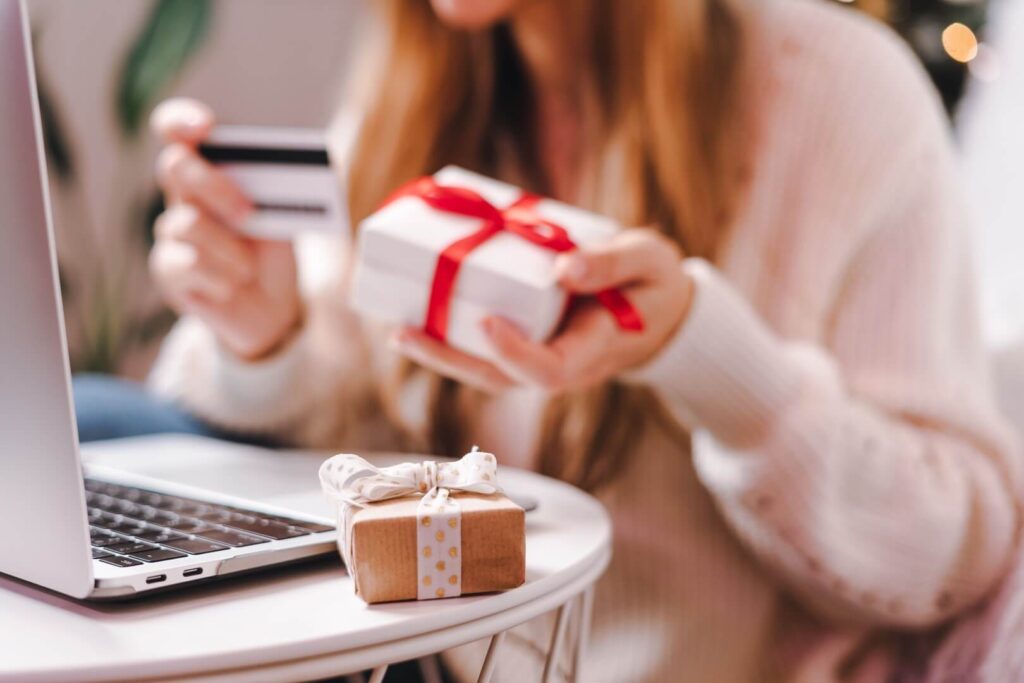 Offering a few additional services can help market your products as the perfect gifts. By giving customers the option to have their products gift-wrapped, or even personalised, your business will be much more appealing to those looking for Valentine's presents. If it's a financially viable option, you might also consider offering free delivery, or giving customers the option to guarantee delivery for Valentine's Day.
Interested in taking your e-commerce business to the next level? Check out our Guide To Ecommerce Funding.
Create a Valentine's Day Look (Both Online and Off)
Valentine's Day has some very specific associations when it comes to decorations — roses, love hearts, and red or pink should feature heavily. Since these elements create a strong association with Valentine's Day, including them in your storefront decorations can be massively effective for attracting customers in from the high street.
As well as decorating your store, it's wise to rearrange your stock to highlight any particularly giftable items or appropriately Valentine's themed products. Doing so is a classic tactic for increasing sales during a seasonal event — most stores will shift their Christmas, Easter, or Halloween products closer to the checkouts or front doors to draw customer attention.
While physical decorations are a great idea for brick-and-mortar stores, they won't do much to help e-commerce businesses. That said, the elements we mentioned above (love hearts and the colours red and pink) will still create a mental association with Valentine's Day if a customer sees them on a website.
If you use a customisable ecommerce platform or website builder, making a few adjustments to your product pages or website colouration can help catch a customer's eye, and guide them towards your Valentine's products.
Raise Your Online Profile
All the preparations we've suggested above won't do much good if your target audience isn't aware of them. Reduced prices or special Valentine's Day goods and services are great material for social media posts and online advertising, so make sure you use whatever marketing tools you have available to spread the word.
Our guidance for Valentine's Day social media is much the same as it would be for any seasonal event — start posting well in advance, and use little marketing tricks like competitions or videos to make your advertising especially effective. Just make sure the language you use in your posts aligns with Valentine's Day as well, with plenty of references to love, relationships, and gift-giving.
Depending on your budget, you might even consider paying for targeted advertising throughout February, so that your business gets in front of the appropriate audience. This is a particularly good idea if you sell a niche product that would make a good gift, but only to a very particular demographic. The Google and Facebook advertising services are a great place to start for online advertising, but shop around to find the best impact for your money.
Make Seasonal Preparations Easy with Rev&U
There's a lot to love about our revenue-based finance options. For starters, they can be secured quickly, unlike traditional funding such as bank loans, making it a great option for SMEs looking to immediately reinvest any funding they acquire. Quick access to finance is incredibly useful for businesses making last-minute Valentine's Day preparations, as the extra investment might mean the difference between success and failure on the 14th.
Additionally, repayments are revenue-based, so you don't need to worry about struggling with debt after applying for a Rev&U cash advance from 365 finance. With revenue-based finance, you don't have the burden of monthly repayments or payment deadlines. Instead, the finance is repaid by taking a percentage of your revenue. So if your preparations help you make a ton of Valentine's Day sales, your revenue will increase, and your loan will be repaid much faster.
At 365 finance, we can provide both long and short-term finance solutions, with revenue-based funding available from £10,000 to £400,000 in capital. Apply for funding today without affecting your credit score, or speak to our team to find out how we can help your business. To find out more, head to our website.