UK independent music venues and nightclubs post COVID-19: How is the sector bouncing back after COVID?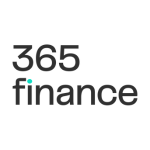 Written by Team 365 finance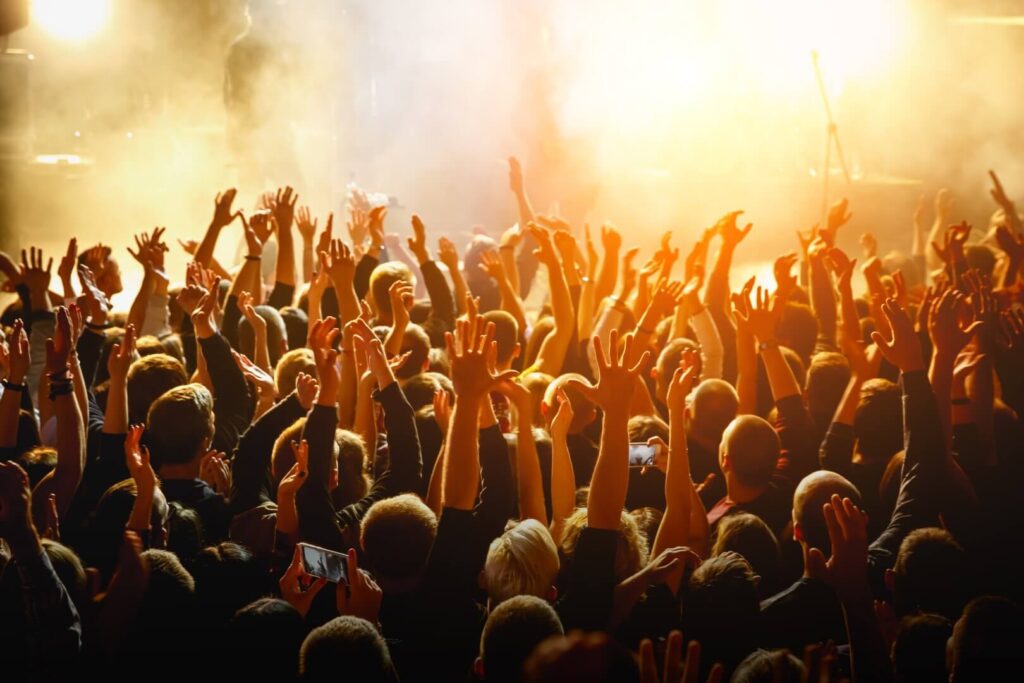 COVID-19 pandemic caused a significant negative impact on a huge number of UK industries, but the hospitality and events industry may have been the worst affected.
Due to the mandatory lockdowns imposed by the British government, nightclubs and music venues were closed for months. Furthermore, social distancing measures meant venues could not reopen until long after other companies like retail stores and restaurants restarted business. Independent music venues experienced a 90% drop in revenue during 2020.
However, the UK is now recovering from the effects of COVID-19, both economically and in terms of relaxing protocols. Masks are no longer mandatory in public places across Britain, and gatherings are being allowed regardless of size. The latter particularly benefits nightclubs and music venues, which are bouncing back from the effects of the pandemic in a big way.
In this article, we'll be looking at the resurgence of independent music venues and other nightlife in the UK, providing in-depth bar and nightclub analysis to help you fully understand how these businesses have managed to recover following the COVID-19 pandemic. Read on to learn about the innovative methods venues are using to bring the crowds.
The Impact of COVID-19
How did the world look before COVID-19? Considering the enormous social impact of the pandemic, it can be difficult to remember. In this section, we'll look at the economic situation that music venues and nightclubs found themselves in prior to 2020, and compare it to the situation now.
Before the pandemic: the statistics
According to the Live Music Census, the live music industry was a significant part of the UK economy in 2017, contributing £1 billion and sustaining 28,538 jobs.
The loss of a large number of these roles is an important factor to note in the collapse of businesses during COVID-19, as the scale of small business closures can be easily underestimated. A single venue (or nightclub) will employ dozens of people, as it'll require everything from bartenders to security staff to cleaners and general management.
While the pandemic (and associated lockdowns) was the primary cause of the industry's troubles in recent years, it's important to note that there has been a trend of closures prior to 2020. Independent music venues in particular have suffered: 35% of grassroots music venues have closed since 2002. So while UK nightlife has definite economic value, music venues have been on a downturn for the last couple of decades.
The pre-pandemic closures have much to do with a change in the way we listen to music. Streaming music digitally is free and incredibly easy, while ticket prices to see high-profile artists on tour have been increasing steadily for the last decade.
The pandemic has also reduced attendee confidence, both regarding health concerns and the financial viability of venues. The 2021 edition of the music industry report This Is Music, found that only 38% of 18-24 year olds reported that they were looking forward to attending live music. Furthermore, 45% of those surveyed specifically said they worried about the financial viability of their local venues due to COVID-19.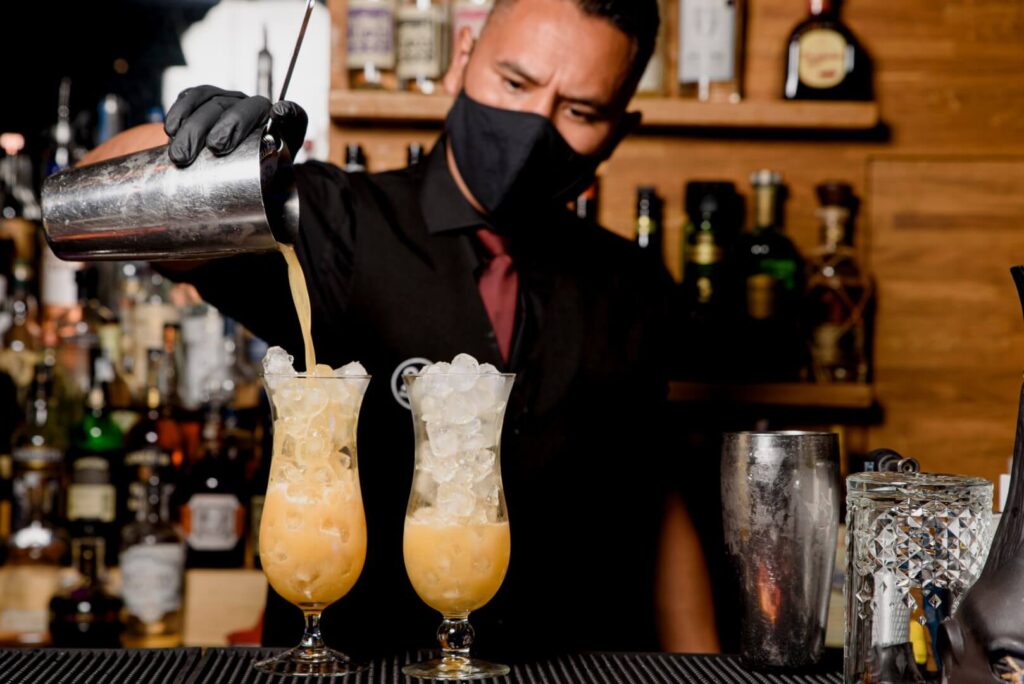 In spite of this, there's an undeniable social and cultural value to live music. For instance, the Live Music Census records that in 2016, 30.9 million people attended live music events in the UK. So there's immense potential within the nightlife industry, but the question remains if these businesses can regain their former popularity?
After the pandemic: the statistics
Statistics from the Music Venue Trust paint a picture of independent music venues struggling to attract the crowds they could rely on in previous years. Specifically, as of August 2021, 86% of grassroots music venues have reopened but ticket sales for live music are down by 67.5%. The reopening is facilitated by the reduction in COVID-19 precautions, meaning large crowds are legally allowed to gather to attend gigs and similar events. However, while life in general returns to normal, consumer habits have not.
In order to generate a profit despite smaller crowds, venues are increasing ticket prices (up 12.2% compared to 2019). It's easy to think of this as an unpleasant necessity — after all, music venues accrued around £90 million worth of debt due to spiraling costs throughout the pandemic lockdowns.
However, we've addressed in the previous section that the increasing price of live music could be a significant factor in its decreasing popularity. So while venues seem to feel that increasing their ticket prices is necessary given their financial situation, it may in fact be driving their customers away.
Nightclubs have had a similarly difficult time due to pandemic changes, despite demonstrating a considerable effort to maintain some kind of cash flow, even while closed. Tactics included holding virtual concerts or offering takeaway beverages to circumvent rules on crowds, for instance. Unfortunately, these strategies have seen little success, only earning around 5% of what would be the typical night-time revenue for these businesses.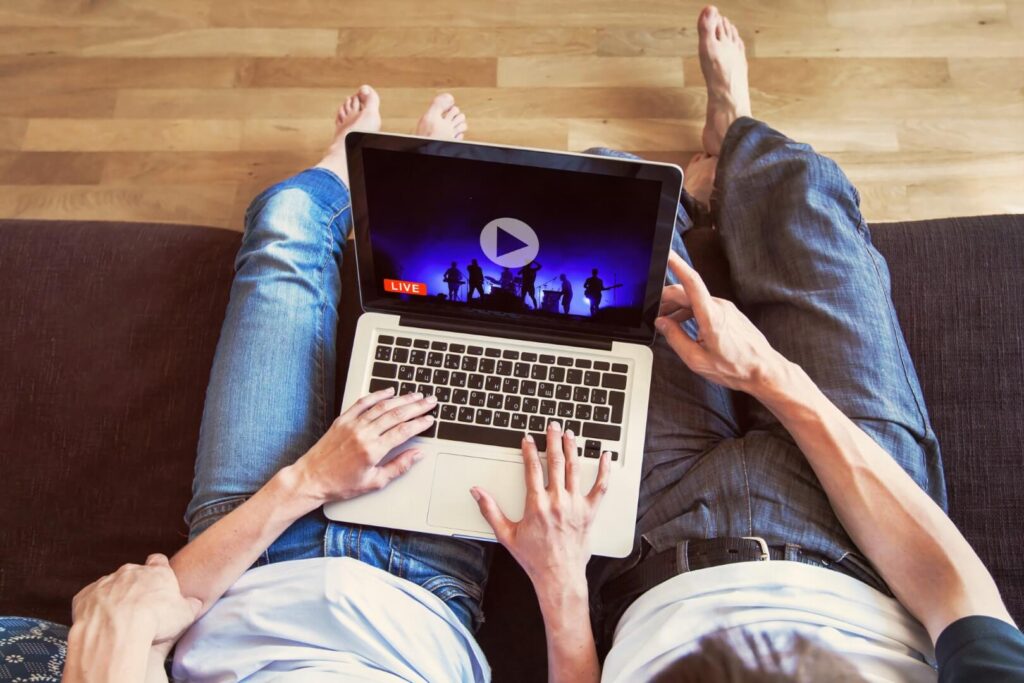 The lack of revenue is reflected in the number of closures nightclubs have seen in the last few years. Research from hospitality software company Stampede indicates that the number of UK nightclubs has been declining since 2009, with the rate of decline accelerating since 2019. Without new ideas, there are concerns that the UK may only be left with 5,000 nightclubs by 2024.
Straightforward tactics are likely to be insufficient. If music venues and nightclubs are to recover completely from the effects of the pandemic, a great deal of innovation is required. Luckily, many businesses across the UK are already implementing fresh and interesting ideas on how to revolutionise the way they're run. We'll provide examples below, as well as suggesting a few of our own.
How music venues are recovering
Merchandise sales
With the considerable amount of debt music venues have accrued due to their lack of business during the pandemic, any kind of revenue stream is welcome. As such, many venues are putting more effort into facilitating merchandise sales for bands, so that they can share some of the profit.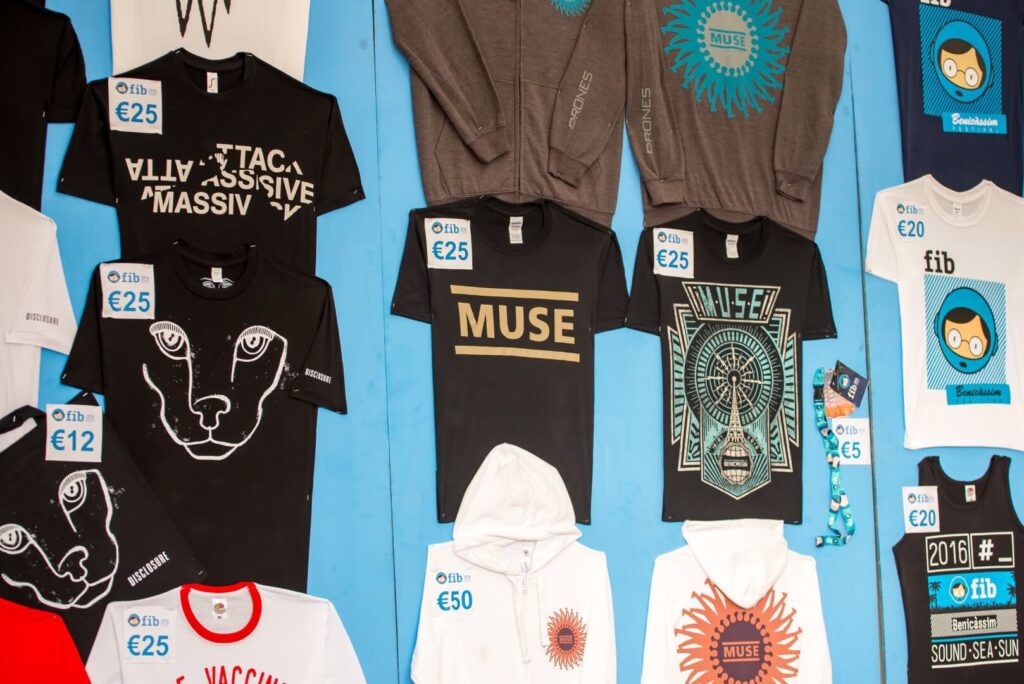 With most independent venues, bands are left to sell any merchandise they have available (everything from hats and t-shirts to lighters and badges) on their own. Doing so can be difficult if they lack the means to take card payments or hire someone to complete transactions on their behalf.
Seeing a gap in the market, some independent venues are allowing bands (or their booking agent) to make a pre-show payment to gain access to the venue's checkout infrastructure. This infrastructure often takes the form of contactless payment technologies or even venue employees on hand to sell the band's goods.
Diversification
Many independent music venues focus on a specific genre of music in order to stand out. For instance, there are many venues that will only book rock bands or hip hop groups.
But while brand identity is important, music venues cannot afford to be picky in these economically unstable times. Those same rock venues are now taking bookings from rap artists or pop bands. While regulars to the venue may complain, this tactic is a classic business move, otherwise known as diversification. Venues are trying to tap into new markets by offering a more diverse array of entertainment options.
As well as broadening the music genres they book for performances, some venues are taking diversification a step further by booking other shows like stand up comedy or spoken word performances.
Emphasising historic and community value
Many music venues have immense value to local culture, or relevance to the music industry at large. To ensure a wider audience is aware of this value (and to highlight what would be lost should the venue close), smaller venues are creating marketing based around famous bands that have played their stages.
For instance, King Tut's in Glasgow has a large section of their website dedicated to the story of the venue and a timeline of its most famous gigs since 1990. While the bands that played there in the past are unlikely to return (often due to the success they've achieved since playing at King Tut's), fans of those bands might be more likely to take an interest in King Tut's shows if they're aware of the venue's links to their favourite musicians.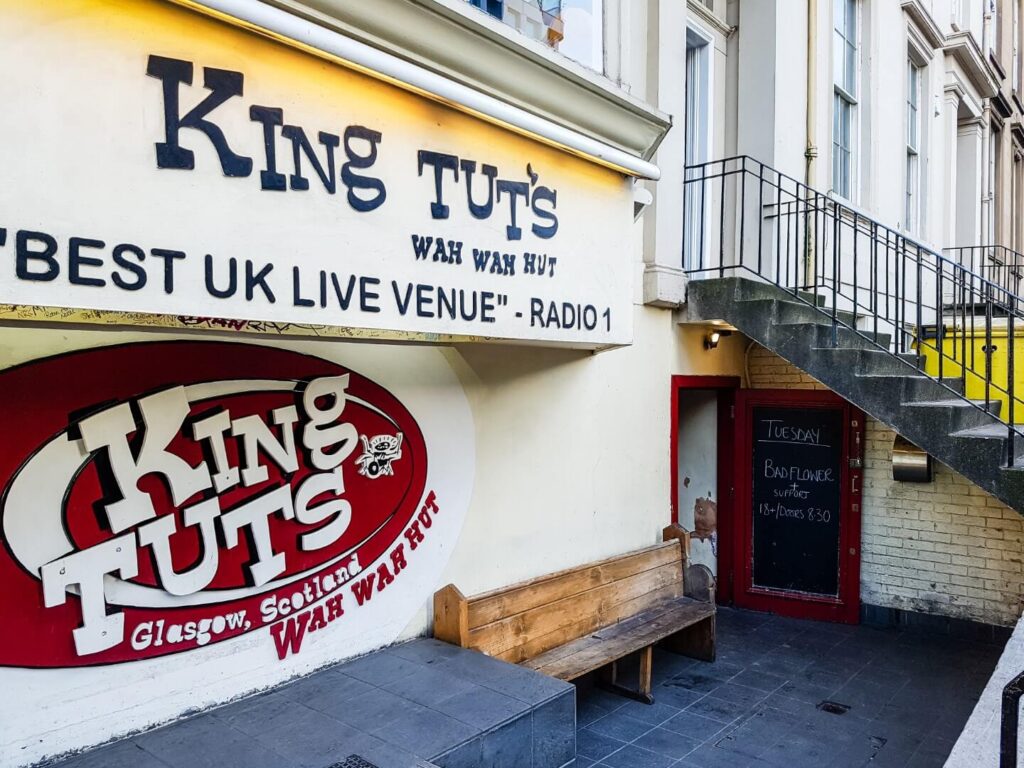 How nightclubs are recovering
Nightclubs have been steadily disappearing since 2010, but the pandemic has significantly accelerated this decline. In fact, the UK has lost 17% of its nightclubs since 2020, showing that the pandemic has had a more significant impact on clubs than on music venues.
There's also much less public and governmental support for clubs, compared to the charitable support that emerged for music venues during the COVID-19 lockdowns. We'll look at this support in more detail below.
The increased impact of COVID-19 means nightclub owners need to put even more effort into innovative marketing ideas than venue operators, but any significant level of innovation does not seem to have materialised in the UK. Most are relying on things to return as business as usual — an idea that becomes less and less likely as time goes on.
To promote innovation, we've suggest a few tactics nightclub owner could adopt to help overcome their current challenges below:
Integrating technology
Ensuring technology is at the core of a nightclub experience helps make it convenient for attendees, improving the customer experience and improving attendance in turn.
Luckily for nightclub owners, integrating technology doesn't necessarily mean completely overhauling the club. Even small changes can help improve the nightclub experience – for example, the inclusion of contactless payments at bars and cloakrooms should be standard, even for smaller clubs.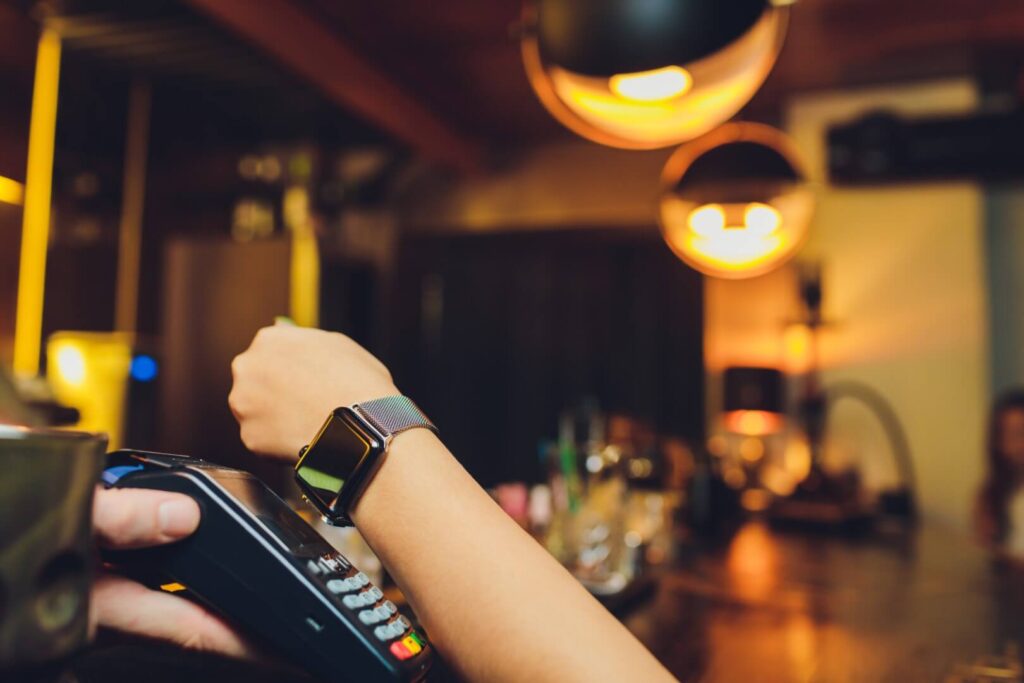 Larger clubs that have the financial flexibility for bigger changes might consider using technology in more significant ways, like digitalising the ticket purchases for their events.
Focusing on "experiences"
Most of nightclub's post COVID-19 struggles come from sticking with their established ways of working at a time when adaptation and change are sorely needed.
Instead of providing a standard club night, nightclubs should shift focus to having a weekly lineup of events. These could be anything from refreshing old tactics like guest DJs, theme nights and discounts for students to even bolder strategies, like those suggested in the Global Nightclub Recovery Plan (GNRP). The GNRP is a product of the nightclub innovators at nighttime.org.
The seven-chapter document looks at revolutionising nightclubs through cutting edge ideas like VR events and using outdoor spaces to host the normal nightclub experience. Although some of the ideas suggested are based on creating a COVID-safe nightclub environment and are slightly obsolete in a world without masks and distancing, many points are incredibly helpful for nightclub owners looking to succeed post-pandemic.
Other factors assisting recovery
Few businesses would have survived COVID-19 without significant assistance. The UK government offered notable financial support during the pandemic, but it's important to also look at the amount of charitable funding raised by individuals and communities.
Assistance from the government
During the COVID-19 pandemic, small businesses benefited from self-employment grants like the SEISS and the COVID Recovery Loan Scheme. Independent music venues and small nightclubs can benefit from both these schemes, which make up for their decreased income (but only to a certain extent).
The 2021 budget was a huge issue for UK nightlife, so much so that UK Music (an umbrella organisation representing the interests of the British commercial music industry) outlined a Music Industry Strategic Recovery Plan. The plan included ideas that should help both venues and artists, including an extension of the reduced hospitality VAT rate (changed to 5% since July 2020) and the Culture Recovery Fund.
While the government did not follow the plan to the letter, some of the suggestions did make it into the 2021 budget, which eased the financial burdens of nightclubs and music venues as they moved into 2022. Specifically, a reduced hospitality VAT rate was on offer until the end of March 2022 (although it was increased from 5% to 12.5%) and the Culture Recovery Fund continued accepting applications.
Unfortunately, the 2022 Spring Budget ended both of these allowances. A reduction in business rates was offered to eligible hospitality businesses, but hospitality VAT returned to 20% and the CRF ceased funding eligible businesses. It will likely worry venue and nightclub owners that specific support for their businesses has ceased, while the financial problems affecting them have not.
Charitable campaigns
As well as government funding, independent music venues in particular saw a significant community effort to save them from closure during the lockdown. In particular, the UK's Music Venues Trust has started a number of campaigns to support independent music venues.
The first notable effort by the Music Venues Trust was the #SaveOurVenues campaign, created in April 2020. They raised funds by asking for donations and selling merchandise, as well as helping artists arrange virtual gigs to promote music throughout lockdown.
#SaveOurVenues was an enormous success, raising £3.8 million and allowing the Trust to offer support to around 920 venues across the UK. The campaign received funding from a number of large private organisations (including Amazon Music and Beggars Group Record Company) as well as significant donations from the British public, lending credence to the immense social value of independent music venues.
As well as providing financial support, the Music Venues Trust has more ambitious plans to help venues succeed after COVID-19. The new campaign, known as Own Our Venues, is an attempt to crowdfund enough investment to entirely purchase selected UK venues, eliminating the costly tenancy agreements that 93% of independent music venues are locked into.
Putting a venue under private ownership provides an additional safety net for financially vulnerable venues following the economic downturn from COVID-19. 67% of the payouts from the government's Culture Recovery Fund were paid to landlords. This statistic indicates that much of the debt venues are currently struggling under could be eliminated if they didn't have to pay rent, and the Own Our Venues campaign hopes to facilitate this.
By helping music venue operators get free from the financial demands of their landlords, the Music Venues Trust hopes that they can prevent more venue closures. However, the campaign has only raised £292,000, a far cry from the Trust's £2.5 million goal. Without significant funding soon, this campaign is unlikely to see the same success as #SaveOurVenues.
A look to the future
Unfortunately, bar and nightclub industry analysis indicates that the future may not be bright for nightlife in the UK unless something significantly changes.
Currently, the entire hospitality industry is struggling to cope with a return to the standard 20% VAT rate. While businesses have reopened, the change in consumer behaviour has meant that crowds have not returned immediately following their reopening.
The ongoing cost of living crisis has compounded these post-COVID struggles, as many are unwilling to spend a night on the town or watch a concert when the prices of petrol, energy, and basic groceries are skyrocketing.
Hospitality industry experts CGA stated in their recent Future Shock reports that 55% of consumers are more concerned about their personal finances than they were last year, and are avoiding nights out as a result.
However, venues are unable to lower prices, as their own expenses are also rising. The trade group UK Hospitality noted bars, venues and nightclubs all facing a 19% rise in labour costs, a 17% hike in food prices and a 14% increase in drink costs. As such, these businesses are expected to pass on an 11% rise in prices to consumers.
Reinvest in creative talent with 365 finance
While nightclubs and independent music venues throughout the UK are busy pushing to return to their pre-pandemic success, it's important to remember they're not alone. If you're a music venue or nightclub owner, consider 365 finance as an alternative funding option.
We can offer revenue-based funding of £10,000 to £400,000, which can be spent on any of the innovative management and marketing strategies we've listed above. Alternatively, small businesses can use our financing to book an exciting roster of talent that will attract the public back to ticketed, live events
Apply for funding today without affecting your credit score or speak to our team to find out how we can help your business. To find out more, click here to visit our homepage.